Phage therapy, the use of viruses as biocontrol agents to combat pathogenic or nuisance bacteria.

To get a sense of what phage therapy is all about, consider the following:
To get a sense of what phages are all about, click here.


The following are advantages that have been cited in publications as associated with phage therapy:
"Bactericidal… Reduced potential for bacterial development of resistance" (2011)


"They are self-replicating but also self-limiting because they multiply only as long as sensitive bacteria are present." (2005)


"They can be targeted far more specifically than most antibiotics to the problem bacteria, causing much less damage to the normal microbial balance in the gut. The bacterial imbalance or 'dysbiosis' caused by many antibiotic treatments can lead to serious secondary infections involving relatively resistant bacteria, and often increasing hospitalization time, expense, and mortality" (2005)


"Narrow resistance evolution… Selection for resistance limited mostly to within populations of targeted bacteria" (2011)


"Lack of cross-resistance… Antibiotic-resistant bacteria tend to retain phage sensitivity" (2011)


"Rapid discovery process… Phages with large therapeutic windows are often simple to isolate" (2011)


"Phages can often be targeted to receptors on the bacterial surface that are involved in pathogenesis, so any resistant mutants are attenuated in virulence." (2005)


"Potential for modification… Phages can be easy to molecular characterize and manipulate" (2011)


"Few side effects have been reported for phage therapy." (2005)


"Low inherent toxicity… Virions consist of only proteins and DNA" (2011)


"Phage therapy would be particularly useful for people with allergies to antibiotics." (2005)


"Appropriately selected phages can easily be used prophylactically to help prevent bacterial disease at times of exposure or to sanitize hospitals and help protect against hospital-acquired (nosocomial) infections." (2005)


"Biofilm clearance… Certain phages, unlike most chemical antibiotics, can be relatively good at this" (2011)


"Dosing versatility… Phage formuations [sic] can take many forms and can be delivered via many routes" (2011)


"Especially for external applications, phages can be prepared fairly inexpensively and locally, facilitating their potential applications to underserved populations." (2005)


"Favorable pharmacokinetics… Delivery to targets or persistence in situ often is either good or improvable" (2011)


"Phages can be used either independently or in conjunction with other antibiotics to help reduce the development of bacterial resistance." (2005)


"Single-dose potential… Can provide dosing convenience" (2011)


"Low-dosage potential… Of possible economic or safety utility" (2011)


"Low environmental impact… Due to a combination of narrow spectrum of anti-bacterial activity, lability, and low inherent toxicity" (2011)


"Not antibiotics… Fewer societal concerns with use, such as in agriculture" (2011)


"Natural products… Potential appeal to natural medicinals market" (2011)


"Relatively low cost… As drugs, reasonable production costs" (2011)


"Public perception… Public perception of the use of phages as antibacterials seemingly is positive" (2011)
For similar lists, see that of Thomas Hausler as well as Loc-Carrillo and Abedon .

The following are some phage-therapy videos:

Listen also to this podcast on phage therapy from Science Friday .



The following together represent a virtual book on phage therapy and related subjects. It is presented in reverse order of publication, and all chapters or articles are either authored by or edited by S.T.A.: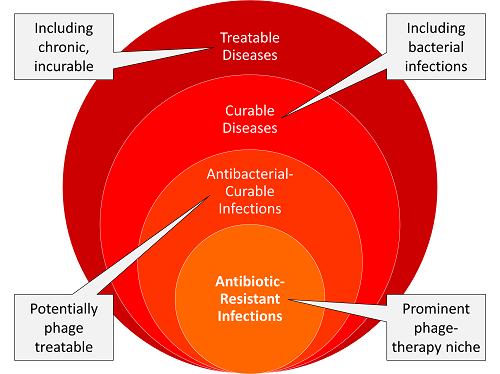 Click here to see the resources links page (beta version).

See also the Bacteriophage Ecology Group (transitional version).

Use this box to search Phage-Therapy.org:
The following are summaries of anti-microbial phage therapy and "virotherapy" publications (with new articles/summaries added as I find the time):
<! Added 20140505>
Kaur et al. (2014) showed that phage-infected Staphylococcus aureus could deliver phages into macrophages resulting in killing of previously phagocytized and therefore intracellularly located S. aureus cells. The intracellular delivery of these phages also "enhanced the bactericidal killing potential of phagocytic cells". (summary as based on the abstract) <! Added 20131215>
Barbosa et al. (2013) look at the evolution of resistance in target Vibrio bacteria following challenge with one or more phages (monotherapy versus use of cocktails, i.e., polyphage therapy). This was towards better understanding the evolutionary dynamics of potential use of phage therapy/phage-mediated biocontrol of bacteria in shrimp hatcheries. Their conclusion is that bacterial resistance to phages in this context may be unacceptably rapid given monophage therapy but is less of an issue given polyphage therapy. (summary as based on the abstract) <! Added 20131215>
Betts et al. (2013) consider phage use to combat Pseudomonas aeruginosa in terms of both the ability of phages to evolve to become better antibacterial agents given serial passage on target bacterial strains along with the potential of bacterial strains to evolve resistance to attacking phages. Of interest, they noted an evolution of cross-resistance against multiple phages in bacteria exposed to only a single phage type. (summary as based on the abstract) <! Added 20131215>
Boyacioglu et al. (2013) explore the potential for a phage cocktail, EcoShield®, to combat Escherichia coli O157:H7 that had been inoculated onto leafy greens. An interesting twist to this study is variation in treatment in terms of the atmospheric composition during vegetable storage. (summary as based on the abstract) <! Added 20131215>
Brüssow (2013) reviews aspects of phage therapy with consideration of systems biology and some emphasis on coliphages and phages use as anti-biofim agents. (summary as based on the abstract) <! Added 20131215>
Chan et al. (2013) provide a review of the use of phage cocktails in phage therapy including in terms of a proscription for their potential regulation as based in part on regulation of influenza (flu) vaccines. (summary as based on the abstract) <! Added 20131215>
Chhibber et al. (2013) use phages in combination with the chemotherapeutic antibacterial agent linezolid to treat a diabetic mouse Staphylococcus aureus foot-infection model. They observed substantial improvement in outcomes when using these two treatments in combination as well as improvement in healing. (summary as based on the abstract) <! Added 20131215>
Cohen et al. (2013) treated coral juveniles suspended in microtiter plate wells with phages in conjunction with experimental infection with Vibrio coralliilyticus, a coral pathogen. The result was prevention of certain disease symptoms. (summary as based on the abstract) <! Added 20131216>
Farr et al. (2013) review aspects of phage therapy along with other subjects including that of drug delivery from the perspective of the engineering of phage-based nanomaterials. (summary as based on the abstract) <! Added 20131216>
Furguson et al. (2013) explore the potential for a phage cocktail, EcoShield®, to combat Escherichia coli O157:H7 that had been inoculated onto lettuce leaves. This was done following hypochlorite treatment and comparison was made between spraying of phages and immersion within phage-containing fluid. (summary as based on the abstract) <! Added 20131216>
Friman et al. (2013) determine the association of phage and protist susceptibility of Pseudomonas aeruginosa with duration of cystic fibrosis-mediated colonization of lungs. From their observations they suggest that chronically lung-infected bacteria may be especially susceptible to phage therapy versus more recently lung-acquired P. aeruginosa strains. (summary as based on the abstract) <! Added 20131216>
Garcia-Quintanilla et al. (2013) review emerging therapies of Acinetobacter baumannii with mention made of phage therapy. (summary as based on the abstract) <! Added 20131218>
Goodridge (2013) reviews use of phage therapy to combat Shigella. (summary as based on the abstract) <! Added 20131218>
Henien (2013) reviews phage therapy from the perspective of especially societal limitations to its more widespread implementation. (summary as based on the abstract) <! Added 20131218>
Henriques et al. (2013) employ a two-phage cocktail to prevent disease in poultry caused by Salmonella enterica by applying phages as an aerosol to fertilized eggs. (summary as based on the abstract) <! Added 20131218>
Hoe et al. (2013) review the use of phages to treat respiratory infections of the lung including in terms of the physical state of phage formulations used for delivery. (summary as based on the abstract) <! Added 20131218>
Hong et al. (2013) orally inoculated phages into chickens in association with their feed to combat experimental challenges with the chicken "typhoid" pathogen, Salmonella gallinarum. (summary as based on the abstract) <! Added 20131218>
Hudson et al. (2013) employed phages to reduce numbers of Escherichia coli O157 applied to beef under a variety of conditions including those "simulating hot boning and conventional carcass cooling". (summary as based on the abstract) <! Added 20131218>
Huff et al. (2013) employed sprays vs. intratracheal (IT) delivery of phages to target IT challenges of Escherichia coli in one-day-old chickens with prevention of colibacillosis observed with IT delivery only. (summary as based on the abstract) <! Added 20131218>
Huys et al. (2013) present a report on phage therapy derived from the July, 2012, Viruses of Microorganisms II meeting held in Brussels, Belgium. <! Added 20131218>
Huys et al. (2013) discuss issues relevant to the regulatory development of phage therapy in Europe. <! Added 20131218>
Hyman et al. (2013) review the use of viruses generally to treat infectious disease with emphasis placed on the "virotherapy" of infections caused by parasites (versus bacteria). (summary as based on the abstract) <! Added 20131218>
Jaiswal et al. (2013) determine the potential for a phage cocktail to orally treat experimental infections of Vibrio cholerae in a rabbit model. (summary as based on the abstract) <! Added 20131218>
Janez and Loc-Carrillo (2013) review phage use against Campylobacter spp. (summary as based on the abstract) <! Added 20131224>
McCallin et al. (2013) analyzed what I assume to be a commercially available, Russian-produced phage cocktail using electron microscopy, metagenomics and other means to identify 18 "distinct" phage isolates and to determine whether any "undesired" genes were present. A small human safety trial was performed as well. (summary as based on the abstract) <! Added 20131218>
Meader et al. (2013) employ a single phage to combat Clostridium difficile in a human colon infection model, with consideration of the limitations of use of temperate phages for phage therapy. (summary as based on the abstract) <! Added 20131218>
Mendes et al. (2013) use a phage cocktail to treat debrided, chronic Acinetobacter baumannii, Pseudomonas aeruginosa, and Staphylococcus aureus infections in diabetes mellitus animal models (rodent and porcine). (summary as based on the abstract)